Keynote Speaker
Location:
Home
> Keynote Speaker
Prof. Zhi-Tao Xiao
Tianjin Polytechnic University, China
Zhitao Xiao is professor and department head of the School of Electronics and Information Engineering at Tianjin Polytech University, where he leads the key laboratory of photoelectric detection technology and system in Tianjin. He has also been the sensior number of Tianjin Society of Image and Graphics. His current research interests include robot vision, intelligent signal processing technology and pattern recognition. He has gotten more than ten national or local reacher grants, published over 50 papers, and holden 13 China patents. He also enrolled the first class of Tianjin '131' Innovative Talent Cultivate Project.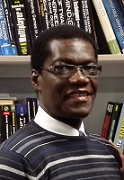 Prof. Philip O. Ogunbona
University of Wollongong, Australia
Philip Olurotimi Ogunbona was educated in Nigeria where he obtained the BSc(Hons)(1st Class) of Electronic and Electrical Engineering from the University of Ife, He studied at the Department of Electrical and Electronic Engineering, Imperial College of Science, Medicine and Technology, University of London and obtained the DIC and PhD for research conducted in the field of Image Processing. He joined the University of Wollongong, School of Electrical, Computer and Telecommunications Engineering in 1990. He left the University in 1998 to join the Visual Information Processing Lab, Motorola Labs in Sydney. He was Principal Research Engineer and later became the foundation Manager of the Digital Media Collection and Management Lab, Motorola Labs, Sydney. While at Motorola Labs, he worked on a range of research projects including, image and video segmentation, image compression (he was part of the Motorola team that worked on the JPEG2000 standardization), digital camera image processing, stereo image processing, multimedia security (watermarking and authentication) and multimedia content management for broadband applications. Apart from the many publications emanating from the research output, Philip was also co-author of several patent disclosures. He currently has four patents filed in the US and has published over 100 journal and conference papers. His current research interests include image and video processing, video surveillance, multimedia security and multimedia content management. He is a Senior Member of the IEEE and member of the IEEE NSW Committee. He has also served as the Chair of the IEEE Joint Chapter of the Communications and Signal Processing. In 2004, Philip returned to the University of Wollongong, School of InformationTechnology and Computer Science, where is now Professor and Head of School. He is also the Director of the Centre for Visual Information Processing and Content Management Research within the School.
Prof. Hyoungseop Kim
Kyushu Institute of Technology, Japan
Prof. Hyoungseop Kim received his B.A. degree in electrical engineering from Kyushu Institute of Technology in 1994, the Masters and Ph.D. degree from Kyushu Institute of Technology in 1996 and 2001, respectively. He is a professor in the department of control engineering at Kyushu Institute of Technology. His research interests are focused on medical application of image analysis.
Dr. Lucia Ballerini
University of Edinburgh, UK
Lucia Ballerini is an expert in image analysis. She developed novel image analysis algorithms and demonstrated their successful applications in many domains. She published over 100 peer-reviewed scientific articles. Lucia Ballerini graduated in Electronic Engineering at the University of Florence in 1993. She received the PhD degree in Bioengineering in 1998, and the "Docent" in Image Analysis at Uppsala University in 2006. She has been working at the Centre for Image Analysis, Uppsala and at the European Centre for Soft Computing, Mieres, Spain. She moved to Edinburgh, UK in 2008, where the main projects she has been involved are:
Dermofit: http://www.dermofit.org (now a commercial product)
VAMPIRE: http://vampire.computing.dundee.ac.uk/ (software suite for retinal image analysis distributed to many centres around the world)
She is now a Research Associate in brain imaging at the University of Edinburgh, working on these projects: LBC1936: https://www.lothianbirthcohort.ed.ac.uk/ (developing image abalysis tools for brain MRI structural analysis)
EPSRC Multi-modal retinal biomarkers for vascular dementia: developing enabling image analysis tools Leducq https://www.small-vessel-disease.org/ (working on quantitative computational methods for assessing Perivascular Spaces)